WELCOME TO BLUE ADOBE MORTGAGE ON THE CENTRAL COAST OF CALIFORNIA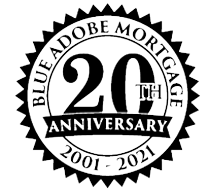 We specialize in residential home loans and are proud to service the Central Coast and surrounding counties.
Our strategy is to deliver to you the power of a national mortgage lender but with personal attention of a local lender. We look forward to offering the best customer service in the industry! Our team of highly trained mortgage professionals are licensed to offer individual solutions to your unique financial circumstances. The internet is great, but we feel that you need personal boutique service when shopping for a mortgage.
What can Blue Adobe Mortgage do for you?
In today's home-lending market, mortgage lenders can serve as safeguards, offering their clients security, safety and peace of mind. One of Blue Adobe Mortgage's most important functions is escorting your loan application through the entire process, constantly patrolling the component transactions for possible breakdowns. We can wade through the mountains of rate data and program options, researching current market conditions to find the most accurate and up-to-date information about cost-effective loan options.
We handle the details...
There are literally thousands of variables that can affect the outcome of your mortgage transaction. That's why you need Blue Adobe Mortgage to act as a liaison between the Title and Escrow Company, Real Estate agent, lender, appraiser, credit agency, the underwriters the processors, attorneys, and any other services which may affect your transaction. At Blue Adobe Mortgage communication is the key to your home loan.
Blue Adobe Mortgage is a mortgage lender that was founded in 2002 and today we are part of Summit Funding, Inc. , one of the largest and oldest private mortgage lenders in the United States. For 21 years and counting we have served the Central Coast and the balance of California.
We do very little advertising and instead focus on building strong relationships in our communities with the top Realtors, past clients and other professional advocates in our related fields. We are extremely active and our team serves in leadership positions in our local Realtor Associations, Women's Council of Realtors, National Association of Hispanic Real Estate Professionals, Chamber of Commerce and many other non-profits.
Every one of our loan officers are licensed with the NMLS and exceed the highest standards of professionalism. Additionally, our loan officers take annual continuing education classes, compliance classes and many other trainings that keep them up to date on the latest programs, trends, rules and guidelines in our industry.
We have helped over 8,000 buyers in our last 21 years obtain homeownership.
Our product mix is as diverse as our team's knowledge. With almost every program to help get buyers into their new home we are truly a one-stop-shop. On the occasional request that falls outside our normal wheelhouse we have the industry connections to help facilitate and get the loan closed.
We are 100% focused on our profession and 100% focused on our community.
Don't just take our word for it, see what over 1800 past client and Realtors have to say: Click Here
WE ARE Blue Adobe Mortgage